Diving into Norse Mythology: Viking Inspired Gin Noorgaard
Beginning of November the new Wikinger Noorgaard Gin will complement Waldemar Behn's popular Viking product range. The classic dry gin is inspired by the fascinating legends of Norse mythology. The local berries and herbs of the north are combined with juniper and lemon providing the aromatic notes for the gin.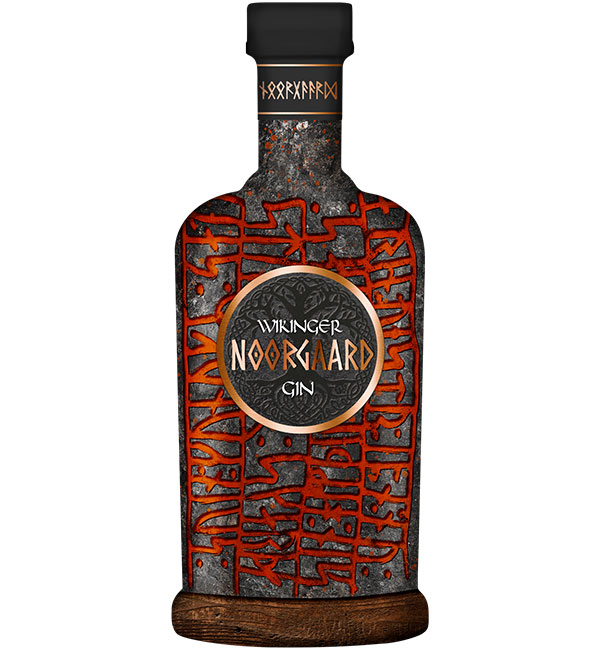 The new gin not only impresses with its incomparable taste, but also with its impressive design. The black bottle bears the inscription of the famous rune stone that King Sven Gabelbart had built for his loyal henchman Skarthi near Haithabu, one of the most important Viking settlements. The finishings of the Shrink Sleeve used matches perfectly with the stone-like surface and gives the bottle an outstanding feel.
Sitting on a wooden base and being topped off with a wooden closure it seems very rustic. Together with the label and its copper-gold shiny runes and World Tree logo it also has a certain elegance.
CCL Label in Holzkirchen and Trittenheim joined forces to create the complex decoration by combining a Shrink Sleeve and Paper PSL to support Waldemar Behn, a leading family-owned company in the German liquor business, in the best possible way launching Wikinger Noorgaard Gin.
"Gin has literally been on everyone's lips for decades. The spirit is one of the highest trending beverages in the market and demand is unbroken. In addition, consumers are particularly enthusiastic about products that can tell regional, authentic stories." knows Rüdiger Behn, managing director at Waldemar Behn. "Wikinger Noorgaard Gin unites precisely these two developments and will convince not only fans of vikings, but everyone who appreciates the pleasure of a unique, powerful gin."