CCL Welcomes Deposit System in Turkey
CCL Turkey is amongst the first to be authorized to print the official deposit logo to support beverage brand customers!
Turkey is implementing a deposit system for one-way bottles and CCL Label Turkey is the first shrink sleeve producer in Turkey to receive official authorization to produce sleeves with the official deposit logo. 
This is an important development given that the Turkish deposit system is set to go live on January 1, 2024. "This is an important step towards huger volumes of collected and recycled beverage bottles in Turkey. We are happy that we passed the qualification to be able to actually print the deposit logo with special, authorized inks on the packaging of our big and small brand customers to support them in their sustainability journey", says Orhun Capanoglu, Managing Director of CCL Label Turkey.
Here are some interesting facts about the new deposit system: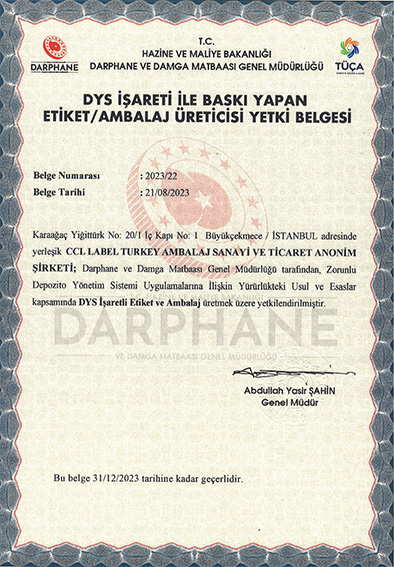 What is DBYS?
The Deposit Management System is a system based on the return and reimbursement of the deposit after the consumption/use of the products, which are decided upon by the Ministry of Environment, Urbanization and Climate Change and can only be put on the market with a certain deposit fee.
Why DBYS?
The Deposit Management System is an effective tool used to collect materials that are especially difficult to collect and that have potentially negative effects on the environment when they become waste, in order to establish a successful collection system and increase the collection amounts.
Scope:
Single-use packages with a volume of 0.1-3.01 liters are covered. Package Types are Glass, Aluminum and PET (Soft drinks; Drinking and Spring water; Sparkling water; Alcoholic and non-alcoholic beer, Malt beverage, Energy drinks; Sports drinks).
23rd October 2023