CCL Label Warsaw Among Top Digital Printing Houses in Europe & Worldwide
CCL runs over 100 digital presses in their facilities so customers worldwide can benefit from the advantages of this technology. Digital printing offers many sustainability advantages such as minimising inventory and production waste!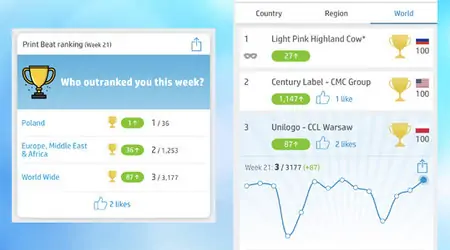 Recently, Cyclos–HTP GmbH, the Institute for Recyclability and Product Responsibility independently tested ink bleeding on HP Indigo printed PS labels in accordance with EPBP (The European PET Bottle Platform) testing protocol and certified them as compatible for recycling. Test results proved a clean separation of ink from the PET flake without ink bleeding when it is under a certain set of conditions.

We are proud to see that our plant in Warsaw regularly ranks among the top performers of HP Indigos Print Beat report. This week our colleagues made it to #3 worldwide, and #2 within the region of Europe, Middle East & Africa.
"We feel honoured to be at the top of the HP Indigo ranking. Digital printing is a fascinating technology and I was amazed to see how digital packaging production supports our customers through the challenging last months", says Malgorzata Nowacka, Managing Director of Unilogo Digital Printing – CCL Label's facility in Warsaw.

The HP Indigo Print Beat report is measuring production that provides visibility and insights into the performance of their presses. Print volumes, failure and jam events as well as restarts and life span are the key performance indicators. With the help of the reports CCL Warsaw is continuously driving improvements productivity for operational excellence.