A Visionary for Connected Packaging Consumer Experiences
Under the title "Connected Packaging", the global specialty packaging pioneer CCL wants to bring the topic of augmented reality closer to brand owners. With Rafi Albo, the company has brought in an expert in this field who has already caused an international sensation with his creative approaches.
Translated from German text by Knud Wasserman
I met Rafi Albo in 2017 at a digital printing event. In his eloquent manner he had tried to bring the audience, mostly printers, closer to "augmented, virtual and mixed reality" and the possibilities these enable. He did not use a lengthy PowerPoint presentation to do so, instead he showed real applications and games that definitely created wow effects for the audience. At that time, he was still firmly convinced that print service providers in particular would play an important role in anchoring these technologies within the media landscape. In an interview with Graphische Revue, he said at the time: "Printers have to incorporate new technologies, new approaches and new ideas in order to increase the attractiveness of their print products."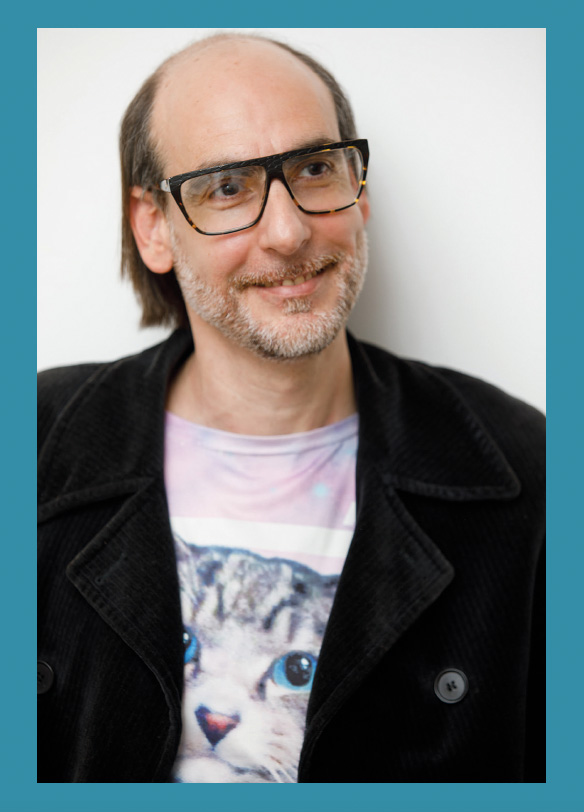 Innovative Interaction
From his point-of-view nothing has changed in this regard, but printers are not really the right people to talk to when it comes to establishing the technologies in the market. He says, he is more likely to find them in marketing departments, branding and creative agencies or the arts. He can convince them of the innovative interaction of various online technologies with physical projects – this includes books, labels, packaging and even works of art. This creates unique experiences from a competition in the form of an interactive world tour, a concert that is played on a beverage can to the creation of your own avatar for a corresponding game. Thanks to the cloud technology used, 360-degree videos and games can be accessed within seconds, so that a label, cover or advertisement is brought to life and merges with virtual reality.
"Emotional connection and the exchange of immersive experiences and additional product information are becoming more and more important for brands," emphasises Rafi Albo. Immersive experiences? The following entry can be found on Wikipedia: "They describe the effect caused by an environment of virtual reality, which moves the user's awareness of being exposed to illusory stimuli so far into the background that the virtual environment is perceived as real." Albo is firmly convinced that the combination of packaging with online technologies provides real added value for manufacturers and customers alike. "In order to inspire customers, you have to create opportunities for interaction and individuality, and I've been doing this very successfully for over 20 years."
Unstoppable creative drive
His Tel Aviv-based agency SegMarketing specializes in 1-to-1 marketing, augmented, virtual as well as mixed reality and has implemented hundreds of very different projects. Over the years, Rafi Albo has built up a considerable network that includes brand manufacturers and technology partners as well as promising start-ups. Personally, he has a lot of experience in project management and extensive technical understanding, because "an app alone is far from being enough". His most important asset is certainly his unstoppable creative drive.
CCL, one of the largest international label and packaging manufacturers, has recognised the potential and so Rafi Albo was hired and the "Connected Packaging" division was launched. Albo heads this business unit and acts de facto as an interface between the marketing and creative world on the one hand and the packaging world on the other. For the technical implementation, Rafi Albo has been using the augmented reality solution from Arilyn for years. He has also brought this partnership into "Connected Packing" and CCL now has an exclusive license for the label and packaging area.
Creative storytelling
The platform includes all tools for creating and managing the content as well as the corresponding Arilyn or individually branded app. What is special about Arilyn is that the application can also be used without an app directly via a browser. However, the technology is only one side of the coin, the other a well thought-out and at the same time creative storytelling. Conceptual thinking is just as important for this as know-how in the areas of design, animation, music, video, rendering and coding.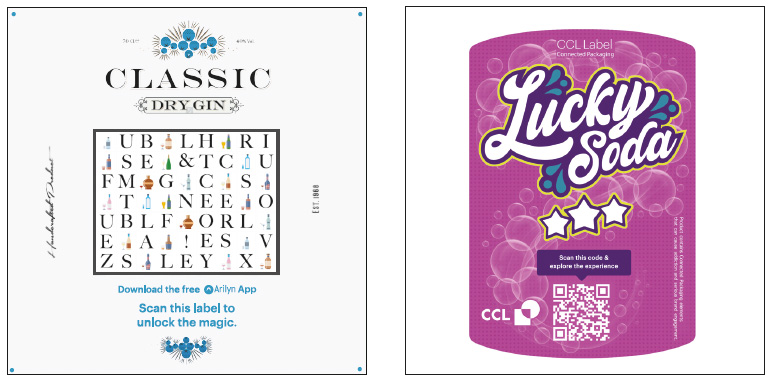 More than just fantasies
AR technology is only the key to entering the extended space. Rafi Albo has countless examples of how to do this. Products can be enriched with digital content via the platform in order to inform and entertain consumers and thus strengthen brand loyalty. By being able to play immersive 360-degree videos directly from the packaging, customers can be sent on an exciting trip around the world and an actual trip can be won on this virtual scavenger hunt. Or they are asked to scan a product or take a selfie, which is then broadcast live on a digital billboard in New York's Times Square or Piccadilly Circus in London. Due to the cloud-based technology, this happens in real time. Rafi Albo assures us that the examples cited are not just creative figments, but have already been implemented several times in practice.
A very specific example is the Danish mineral water brand Aqua d'Or. As part of a range expansion, the label on the bottle was enriched with additional AR content. If you point a smartphone at the bottle, it turns into a slot machine and the consumer can take part in a competition. Line Giessing Jørgensen, Brand Marketing Manager at Aqua d'Or, comments on the campaign as follows: "We wanted to attract young consumers to a competition for the New Year. We knew that traditional codes associated with a boring website are no longer relevant for young people. When we saw the potential of CCL's Connected Packaging technology, we ran a competition in less than seven weeks!"
The right story behind it
"We have proven that including a competition on the packaging can trigger wow effects and actively involve consumers in a brand experience. The activation rates and participation in this campaign are impressive proof of this. Technology is worthless without the right story behind it," says Rafi Albo. The label is scanned with the app and the bottle turns into a slot machine. The label comes to life within seconds, the fruits and elements buzz around the entire product and are adapted to the cylindrical shape of the bottle.
Rafi Albo doesn't run out of application examples: "We have generated a QR code for the application described above." Another interesting approach, how the yoghurt and milk manufacturer Arla children is conveying the necessity of recycling in the form of a competition, can be found on CCL Label's homepage.
From Rafi Albo's point-of-view, intelligent and connected packaging is a clear trend, especially when it comes to reaching Generation Z and Millennials, getting them involved and thus binding them to a brand.
Watch the Connected Packaging video for a quick summary here.