For years CCL has supported customers in South Africa and neighbouring countries through a local sales office. With the construction of the production site, CCL Label is now able to offer them the same high-quality products they know and rely on – but combined with even more flexibility: The goal is to supply local customers in the most efficient way by enabling shorter lead times as well as reduced need for transportation and storage.
CCL Label South Africa is located on the outskirts of Johannesburg near Midrand. It is ideally located – close to current customers as well as Johannesburg airport providing good transport links to Sub-Sahara Africa.
Having supplied local beverage companies for many years now, CCL Label has become a known quantity for premium decoration in South Africa and neighbouring countries. Customers are not only provided with labels but reliable service and on-site strategic and technical support. In the past CCL was honoured with supplier awards multiple times already by their long-term customers such as SAB.
South Africa Becomes a Home for Premium Packaging
This spirit of innovation, extensive knowledge and passion for labels will also shape the new location over 13.000 km south – in Johannesburg. Both permanent and WashOff labels can be produced locally now.
Premium decoration made in South Africa will open up new possibilities for existing customers and all other manufacturers looking to enhance their products through outstanding packaging.
Social Responsibility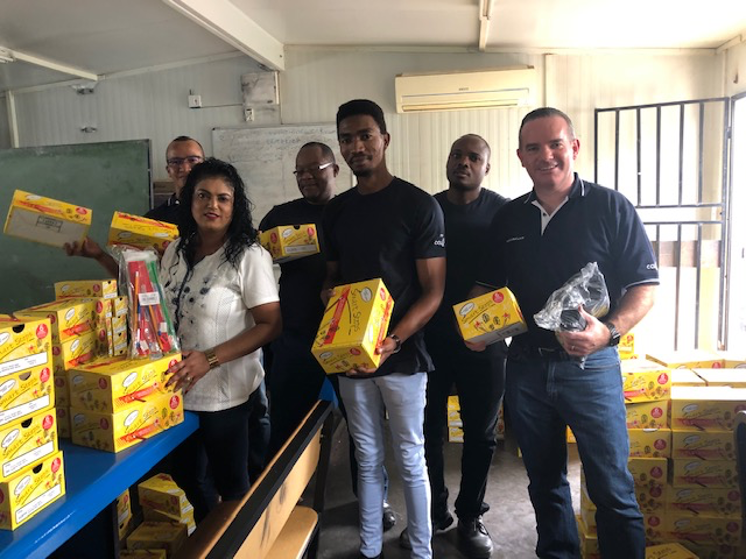 Together with Making a Difference South Africa, a non-profit organisation based in Midrand CCL Label South Africa donated basic necessities to Mayibuye Primary School in Tembisa.
"We focus on providing basic necessities to children in disadvantaged communities with the provision of school shoes, socks and stationery in order for them to have dignity to make them present in the class in order to make sure that the learning process can continue. […] We believe it will definitely make a positive change in their lives," says Chan Naidoo, CEO of Making a Difference South Africa.
Through partnerships with responsible corporate citizens and their partners, such as CCL Label, their initiatives become a reality. The school's principal Kgabo Rammutla said, that "if one needy child gets a pair of shoes, he or she won't have to come to school without or with torn-off shoes. The family has one less pair of shoes to worry about. Most cannot afford to buy them and that pair could last for more than a year, making it a real investment."
6th August 2020