Bonafont Mascot: Drinking Water Has Never Been So Much Fun!
In a segment where the product is water and the target group is children, the main challenge is to offer an incentive to consume fewer sweetened beverages and replace them with healthy water instead. Being in the market for some time already, the Bonafont Mascot brand of Danone Brazil was in need of creating a new appeal for their product. The PET bottles were already decorated with colourful and attractive sleeves that feature well-beloved Disney characters – the next step was to turn them into fun toys.
To achieve that they took advantage of the existing decorative labels and added a creative innovation: shrink sleeves that can be coloured with crayons or colouring pencils! The Disney character on the front is combined with a black and white version at the back finished with a special varnish that enables the kids to colour it as they wish – customising their own bottles.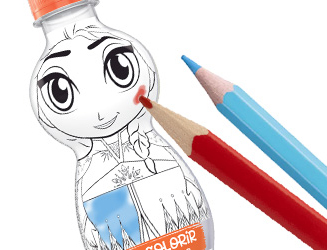 The labels also offer a space to add a name, which is very helpful to avoid bottle mix-ups – especially during the pandemic.The innovation proved to be a success: The achieved sell out was 112% in a ninety-day period between the launch and the arrival of the product in stores. The product acceptance has grown substantially as parents find it easier to motivate their children to drink water. The promotion offers a fun and unusual activity for children customising the characters while enabling more safety with easy bottle identification.
12th April 2022