Danone 5 Star Awards: And the winner is…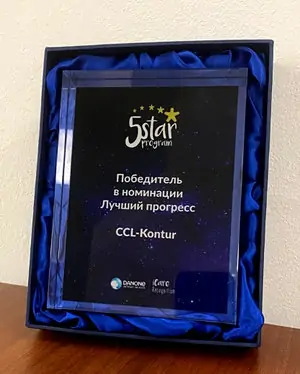 For a number of years, Danone has been implementing a global programme called «5 STAR» which aims to continuously improve the quality and service standards of Danone's suppliers of packaging and raw materials.
The programme includes a comprehensive assessment of the suppliers conducted throughout the year in five areas including quality and security of the supplied products. Based on an in-depth analysis of numerous criteria, winners in several nominations are determined and awarded at a special award ceremony.
This year the awards ceremony has been held via Zoom. We are happy to announce that CCL Kontur printing house was announced as a winner in the "Best Progress" category and awarded with one of the coveted prizes. We'd like to thank Danone for their trust and outstanding collaboration through the years.
Our company will continue to do the utmost to improve the already high level of its service and to support the efficiency of its clients' processes.
16th April 2021