How to elevate the customer experience to another level with your product? How to get out of the commonplace that everyone already explores?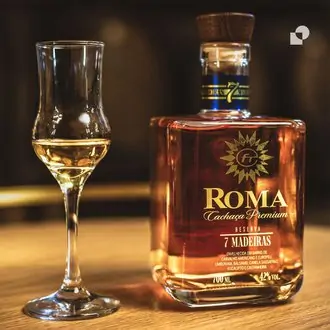 It is important, without a doubt, that the quality of your product is exceptional, differentiated, perceived. But is this enough? Let's use as an example today a typically Brazilian product – cachaça.
In the case of Roma Premium cachaça, we have a selection of seven woods, including American oak, European oak, some exotic Brazilian woods, everything for a unique aroma and aging recipe, all combined with a series of technologies in the manufacturing process for maximum purity. In other words, Tradition and Innovation, together, in a development carried out with great care by Alambique JP, combining the very best in raw materials and processes.
However, as fantastic as this product is on its own, without a nice bottle and a finely crafted label with sophisticated finishes, all you have is a clear liquid. It is hard to convey the message of a refined experience with just that, isn't it?
While having a good product and excellent packaging is extremely important, nowadays, this is no longer a differential. It's something that any brand that wants to be successful must have.
So…how to go beyond this point? How to go beyond product quality and packaging? How to provide an interactive, informative and enriching experience for both the consumer and you, the manufacturer? Allowing better knowledge of your customer's consumption habits.
Welcome to the CCLiD world!

It is with great happiness that we announce that Cachaça Roma is the first drink in Brazil to incorporate NFC technology, the same used in payments by approximation. With CCLiD, integrated on this label made by CCL, each bottle is unique, with a unique serial number.
In the eyes of the consumer, there is the confidence of certification: the certainty that this is an original product, traced from the origin to the point of sale. This point is essential, since counterfeiting drinks is a huge concern not only for those who produce, but for the consumers as well. It's our health at stake.
But for CCLiD, certification is just the beginning of the journey. CCLiD is a passport for your customer to dive into the universe of the product with just a cell phone. In the case of Cachaça Roma, the consumer embarks on a trip straight to Fazenda Roma, in São Felix do Araguaia, Mato Grosso/BR.
An immersion in the love for ecotourism, fishing, and Brazilian country music, which are in this cachaça's DNA. An incursion into the artisanal manufacturing process, the woods used, the slow fermentation process that preserves the aromas and improves the bouquet.
After a trip like this, the relationship with the product and the brand goes to another level, doesn't it? Cachaça is no longer just a product to be consumed. It gains an emotional bond, a memory, a much more intense experience, much tastier than just a taste. This is a product that really deserved an innovation like this!
Besides that, CCLiD allows the brand to better understand the consumption habits and offer a series of direct interactions with the customer. Thus, the products can be improved, allowing a better understanding of the consumer's tastes and desires.
Watch the video:
What about you? Are you ready to enter this world of the Internet of Things and explore this universe of possibilities that opens up when connecting directly with your customer? Send a message to CCL Brazil:
[email protected] and learn more about CCLiD.